Wat Intharavihara ( Wat In ) is located on Visut Kasat Road, near Bang Khun Phrom Intersection opposite the Bank of Thailand . The temple was built before the founding of the capital and was originally called Wat Bang Khun Phrom Nok. It was renovated and renamed Wat Intharam when King Rama I provided land in Bang khun Phrom Sub-district for the settlement of prisoners of war from Vientiane. Chao In, an uncle of Chao Noi Khiew Khom, one of the King's chief wives, renovated the temple and invited Chao Khun Phra Aranyik, a monk who had also come from Vientiane, to preside as an abbot. Chao Inthawong , the son ofSomdej Phra Boworn Rajchao Mahasakdipholasep, was responsible for a second renovation.
Chao Khun Phra Aranyik was an expert in meditation and had once been the instructor of Somdej Phra Buddhacharn ( To ) of Wat Rakhangkhositaram, who initiated the construction of Luang Pho To, a large standing Buddha image. The construction of the image had reached only to the navel when Somdej Phra Buddhacharn died. It was completed in the reign of King Rama VII.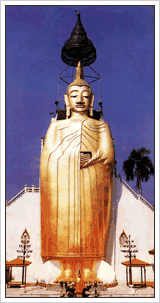 Luang Pho To is a statue of the Buddha holding an alms bowl. When the statue was completed, the temple held a three-day celebration on 4-6 March, 1928, and this festival has been held annually ever since.
King Rama VI renamed the temple Wat Intharavihara because the name was the same as Wat Intharam ( Wat Bangyirua Tai ) in Thonburi. People generally refer to the temple as Wat In, Wat In Bang Khun Phrom, or Wat Luang Pho To.